Boise County
Boise County was established on February 4, 1864, with its county seat at Idaho City. Named after the Boise River which, in turn, was named by French-Canadian explorers and trappers for the great variety of trees growing along its banks, the Boise Basin, in which Idaho City lies, was one of the richest gold mining districts in the nation after the discovery of gold in 1862. At its peak in the 1860s and 1870s, Idaho City was, for a time, the largest city in the Northwest. It was this great influx of people that led to the establishment of the Idaho Territory.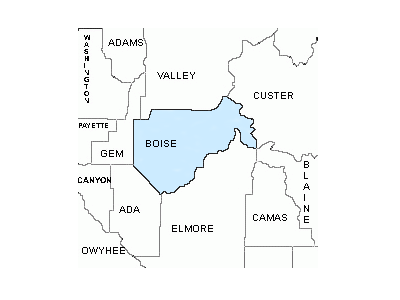 Area: 1,908 sq. miles
Population: 4,768
County Seat/Courthouse: Idaho City
Location: 419 Main St., Idaho City
Mailing Address: P.O. Box 126, Idaho City, ID 83631
Telephone Numbers:
District Judge/Calendar Clerk:


Hon. Samuel Hoagland/Stephanie
Telephone: (208)287-7541
Fax: (208)392-6712



Court Reporter:


Kasey Redlich
Telephone: (208)287-7568



Magistrate Judge/Calendar Clerk:


Hon. Roger Cockerille/Brenda
Telephone: (208)392-4452, ext. 132
Fax: (208)392-6712



Clerk of the District Court:


Mary Prisco
Telephone: (208)392-4431
Fax: (208)392-4473



Boise County Prosecuting Attorney:


Ian Gee
Telephone: (208)392-4485



Sheriff:


Ben Roeber
Telephone: (208)392-4411
District Court Scheduling
Second Thursday of each month
10:00 Criminal Hearings
2:00 Civil Hearings
First, Third, Fourth, and Fifth Thursday of each month
9:00 - 5:00 Trials
Magistrate Court Scheduling
Criminal and civil trials are scheduled on an individual basis by the presiding judge.
Monday

Boise County

Tuesday

Boise County

Wednesday

Boise County

Thursday

Ada County

Friday

Ada County


W
e
e
k

1

9:00 Domestic Violence

9:30 Arraignments

11:00 Preliminary Hearings

1:15 Probable Cause and In-Custody Arraignments

2:00 Pretrial Conferences

4:00 Civil and Juvenile Emergency Hearings

9:30 Arraignments (if Monday is a holiday)

10:00 Civil and Juvenile Hearings

1:15 Probable Cause and In-Custody Arraignments

1:30 Small Claims Mediations

2:00 Small Claims Default

3:00 Small Claims Contested

(small claims cases heard only in even-numbered months)

9:00 Steering Committee

1:00 Staff Meeting

1:15 Probable Cause and In-Custody Arraignments

2:00 Civil and Juvenile Emergency Hearings

Small Claims

Small Claims


W
e
e
k

2

9:00 Domestic Violence

9:30 Arraignments

11:00 Preliminary Hearings

1:15 Probable Cause and In-Custody Arraignments

2:00 Civil and Juvenile Hearings

4:00 Civil and Juvenile Emergency Hearings

9:00 Jury Trials

9:00 Civil and Juvenile Emergency Hearings (if no district court trials)

1:15 Probable Cause and In-Custody Arraignments

2:00 Civil and Juvenile Emergency Hearings

Small Claims

Small Claims


W
e
e
k

3

9:00 Domestic Violence

9:30 Arraignments

11:00 Preliminary Hearings

1:15 Probable Cause and In-Custody Arraignments

2:00 Court Trials

4:00 Fail to Pay (FTP) Hearings

(Horseshoe Bend)

9:30 Arraignments

10:00 Sentencing Hearings

10:30 Review Hearings

11:00 Court Trials

11:30 Pre-trial Conferences

1:30 Civil and Juvenile Hearings

9:00 Civil and Juvenile Emergency Hearings (if no district court trials)

1:15 Probable Cause and In-Custody Arraignments

2:00 Civil and Juvenile Emergency Hearings

Small Claims

Small Claims


W
e
e
k

4

9:00 Domestic Violence

9:30 Arraignments

11:00 Preliminary Hearings

1:15 Probable Cause and In-Custody Arraignments

2:00 Civil and Juvenile Pre-trial Conferences

4:00 Civil and Juvenile Emergency Hearings

9:00 Idaho City Court Trials / Horseshoe Bend

10:30 Review Hearings

1:15 Probable Cause and In-Custody Arraignments

2:00 Sentencing Hearings

3:00 Probation Violations with Summons

4:00 Civil and Juvenile Emergency Hearings

9:00 Civil and Juvenile Emergency Hearings (if no district court trials)

1:15 Probable Cause and In-Custody Arraignments

2:00 Civil and Juvenile Emergency Hearings

Small Claims

Small Claims


W
e
e
k

5

9:00 Domestic Violence

9:30 Arraignments

11:00 Preliminary Hearings

1:15 Probable Cause and In-Custody Arraignments

2:00 Criminal Pre-Trial Conferences or Civil Hearings

4:00 Civil and Juvenile Emergency Hearings

9:00 Civil and Juvenile Hearings

1:15 Probable Cause and In-Custody Arraignments

2:00 Civil and Juvenile Emergency Hearings

9:00 Civil and Juvenile Emergency Hearings (if no district court trials)

1:15 Probable Cause and In-Custody Arraignments

2:00 Civil and Juvenile Emergency Hearings

Small Claims

Small Claims